Weddings & civil partnerships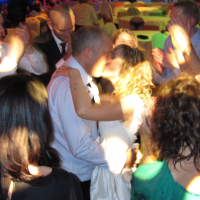 Getting married can be one of the most exciting days of your life, but also can be quite stressful, as I know only too well from my own experience!
There is a long list of things to organise for your Wedding Day – From the church/registry office, the venue for the reception, flowers, etc. The entertainment for both you and your guests is just one part of your day, and, along with everything else you want to make the right choice.
All Wedding Bookings come with free personal consultation at your chosen venue to discuss any requirements you have. I offer this for a number of reasons:-
We both get to meet each other - this way you know who I am before your big day, and I know you! It helps break the ice.
Discuss your schedule of events - from when you'll be arriving, to when you'll be cutting your cake, to your first dance, etc.
Talk about the kind of music you would like me to play and when you want it playing, including your first-dance, optional second (and even third) dances, and even your last-dance at the end of the night. I have a wide range of music that would cater for most, if not all of your wedding guests.
It gives me the chance to survey your chosen function room - where you would like me to set-up, access to the room, any work out any potential issues that need to be resolved so your day can flow as smooth as possible.
Introduce myself to the staff/management and ask any relevant questions. Some venues may wish to see proof of Public Liability or PAT test certificates for example.
Discuss any additional services required, such as background music, early-setup and radio microphone for speeches.
Chat about anything else, whether relevant or otherwise!
Most of all, it's all about your special day, making sure that it runs as smoothly as possible.
Additional services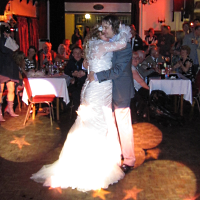 Why not take advantage of some of the additional services below, to add to the atmosphere of your Wedding Reception?
Background music during your Wedding Breakfast.
Radio Microphone to make your speeches and/or announcements by your Master of Ceremonies (If you have one).
Early set-up - Here I set-up before you and your guests arrive at the Wedding Breakfast. This is usually best combined with the background music option to make full use of my available service.
Optional discrete set-up available for your ceremonial music. Please call or enquire for further details.
All-day Wedding & informal Master of Ceremonies package – Includes early set-up, background music throughout the day, mood/up-lighting, quality radio microphone for speeches, and myself available throughout to make your wedding day both a special and memorable occasion.
Pricing
Prices start at £500.00, which includes a consultation at your chosen wedding venue nearer to your date in addition to a no-obligation meeting. Please view my pricing page for additional items & optional extras (e.g. mood lighting, early set-up).
Ready to make an enquiry or place a booking?
Book via the enquiry form, or alternatively via one of the methods on the contact page.