Themed nights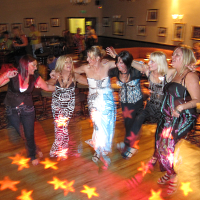 Themed nights can be almost anything you want them to be. Usually themes go with another type of night, for example a Birthday party with a 70s disco theme or a Halloween Party.
Some of the themed nights you could have include:
School Reunion – Meeting up with old school friends from 10 or even 20 years ago can be a great way to remember and celebrate your old school days, usually these are combined with a certain era of music that was played "back in the day"
Motown / Soul / Oldies nights – Motown has a huge appeal even to todays younger generation, and as such these nights can attract not only the older-audience, but can also attract young people too, especially with the resurgence of covers of classic tracks from many years ago.
80's night – The 80's was an era where there were so many genres of music, from Punk, new-wave, electronic, to classic Rock and Metal, and is a popular theme request
90's night – Following from the 80s, the 90s contain many different genres of music, from britpop/indie to electronic/dance anthems and more.
Whatever you're planning for your themed night, please contact me to discuss your requirements in more detail. I carry a large range of music that is suitable for most themed nights.
Ready to make an enquiry or place a booking?
Book via the enquiry form, or alternatively via one of the methods on the contact page.